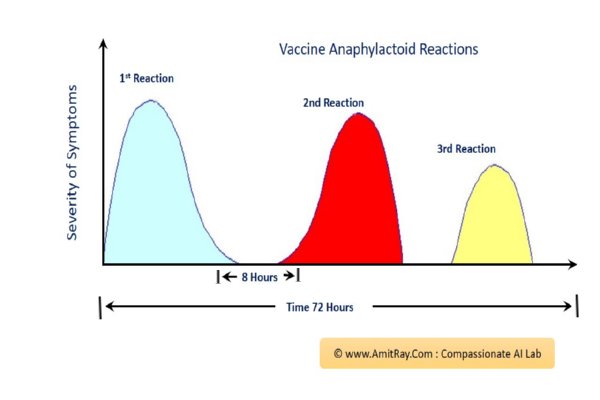 Allergic Reaction and Covid Vaccine
A vaccine reaction is an individual's response to the inherent properties of the vaccine. Vaccine-related adverse reactions are generally mild, but on  many occasions, patients can experience severe or even life-threatening reactions. Reactions to vaccines may be delayed or prolonged, potentially lasting even several days. Generally, reactions typically occur within a day or two of immunization. Adverse events also emanate from human errors – mostly due to storage and temperature lapses. Presently, there is not much published literature about the effectiveness of the COVID-19 vaccines. Irrespective of an individual's allergy history, people with allergies should not get the vaccine for now. Earlier, we have discussed the ethical issues of covid-19 vaccines. Here, we discussed probable allergic reactions to COVID-19 vaccines. 
Overview of Allergic Reactions                   
Local and systemic vaccine reactions such as pain or fever can occur as part of the immune response. But for some people, who are allergic to many substances, can trigger serious reactions. After the emergency approval of a COVID vaccine in the UK, some people had allergic reactions. If you have an allergy, your immune system overreacts to an allergen by producing antibodies called Immunoglobulin E (IgE). These antibodies travel to cells that release chemicals, causing an allergic reaction.… Read more..